Sam and Max: Beyond Time and Space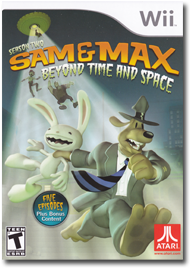 Season two is more of the same point-and-click adventuring that was done so well in Season one. The puzzles are definitely a little less straightforward and found myself relying on the built in hinting system more than last time around. The humor and storytelling are still intact though. Most of the characters from season one reappear and are as strange as ever. There are quite a few new faces as well including a foppish German vampire, a gun toting Santa and even the dark lord Satan himself.
The main problem with this game is in its implementation on the Wii platform. The loading times are unbearable and the animation is jerky. I was hoping that these problems would have been addressed in this version but I guess Tell Tale didn't put any effort into this port. I can live with dumbed down graphics, just get the thing to run smoothly fellas. Next time around I am going to be playing season three on my PC instead.