Old Ironsides (Optimum Resource, Inc., 1982) is a two-player game for the Apple II that simulates Nineteenth Century naval combat. Having read all twenty Aubry/Maturin seafaring novels, I have been craving some sort of naval battle game. The problem is, when you get down to it, ninety percent of the action in these wonderful novels is comprised of the days-long chase of an enemy ship. Not the stuff of an action packed game. Old Ironsides strips most of the technical (and realistic) aspects of sea battles away to reveal an arcade-like multi-player game much in the same vein as the classic Atari Combat.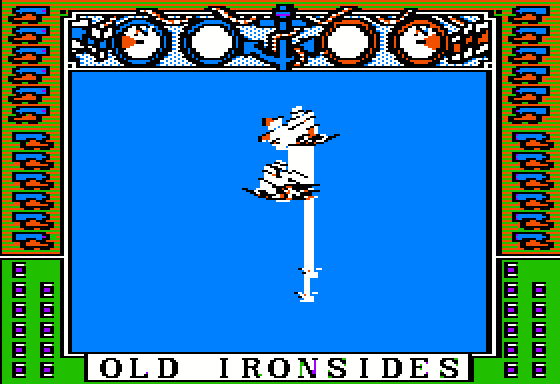 The result is a very fun game that has just enough tweaks to it to make it feel like you are really battling it out on the open sea rather than just playing Combat with boats. The wind is a factor, as is the aiming of your broadsides. A direct hit to the bow of an opponent will ignite his magazine, thereby ending the battle rather quickly. Also, your ship can sail off the screen. Stay of the screen for too long and you are "lost in the fog," and lose. A good navigator can use the fog as cover and sneak up behind an enemy.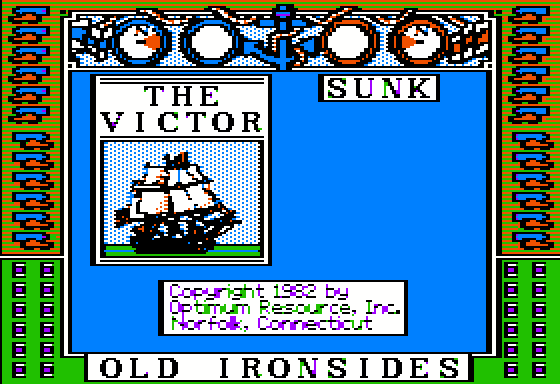 The Apple ][ has many limitations when it comes to action games and this game would benefit from smoother controls and maybe a few graphical enhancements (like actual fog and weather). But, all-in-all, a very good game for the time it was created, and one of the few Apple ][ games that still holds up to this day.