Muramasa: The Demon Blade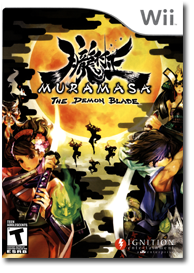 This game is noteworthy for its incredible, painterly art style. The characters and backgrounds are all rendered with vibrant colors and broad brushstrokes all in glorious 2-D. Thankfully, the art stays away from a typical nerdy anime style. I would think more Japanese artists would want to stray from drawing the same way Speed Racer and every other Japanese cartoon was drawn for the past forty years.
The game play is mostly side scrolling, hack-and-slash fighting. There are role playing elements and you have a bit of choice as to how to develop your character. However, for the most part, I was just following arrows and equipping the newest swords I forged. Despite this rather brainless game play, I found myself having fun just going through the motions of combat in order to see the next wild boss or discover the next paper-thin plot point in the narrative. Also, by making it impossible to collect all the swords on your first play through, the developers give you a nice tempting carrot for O.C.D. repeat play.