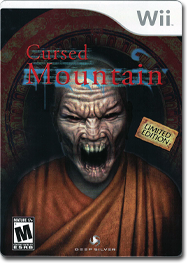 This "limited edition" version was one of the first games I bought for the Wii. It's been sitting on my stack of unplayed games since June of 2011. At the time, I didn't know anything about it beside the fact that it was really cheap (Amazon order history says it was $8.99!). It comes in a tin case (like Metroid Trilogy) and includes with a DVD and CD soundtrack. Turns out, I shouldn't have put it off for so long and it's actually a decent game.
Okay, it's decent by Wii standards. That means the usual control annoyances, bland graphics and simple story-lines. What it has going for it is a unique game world and premise. You play a mountaineer in the Himalayas on a quest to find his lost brother who disappeared in a search for a mystical artifact. Climbing and surviving the extreme elements become a critical part of the game as you get closer and closer to the summit and the source of the titular curse. The local religion, customs and culture are weaved in throughout the game. It's not quite National Geographic the game, but it does manage to avoid the usual survival horror tropes.
The combat is a combination of if Wiimote shooting (hooray!) and waggle control finishing moves (boo!). It isn't horrible but it gets old quickly. There are a few boss battles, but they don't really add much variety either. The story is also simple and is told through a series of hand-drawn, slide show cutscenes. Nothing amazing, but there is a nice character payoff in the finale. A lot of potential here, but as it is it's playable and fun but not earth-shattering.