One of the more popular pages on this site is my guide to coverting Apple ][gs disk images into real, working ][gs floppies. In order to ease this process and bring some life back to my old computer, this year I splurged and bought a CFFA3000 for my birthday.
CFFA3000 is an expansion card for the Apple 2 series of computers that allows you to use a standard USB flash stick or compact flash card as a storage media for all your Apple ][ disk images. Now you can take a standard Apple disk image, such as a .2MG, .DSK or .PO file, and save it to a USB stick. The USB stick can then be plugged into the CFFA3000, and, with a few settings tweaks, you can boot that disk image on your original Apple ][ hardware. Really cool!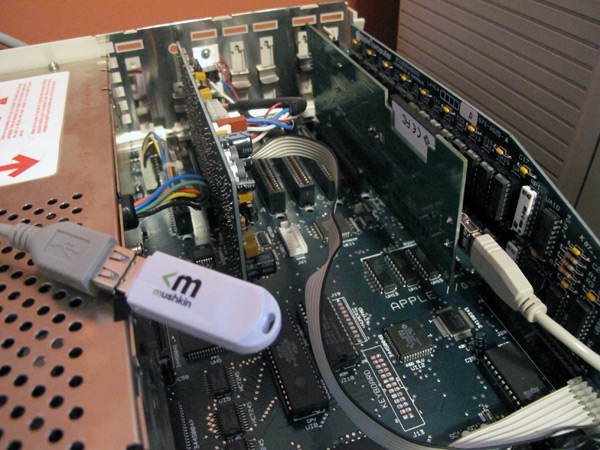 Installing the card is just a matter of opening the Apple ][, and inserting the card into an empty slot (I used slot 7). I hooked up a short USB extension cable to the card which allows me to swap out a USB stick without having to open up the computer case. The CFFA3000 even allows you to swap out the flash memory while the computer is up and running. I also have a compact flash card directly plugged in to the card. I have put a few essentials like system software and utilities on that card, but the set up program allows me to pull disk images from both the USB and compact flash at the same time.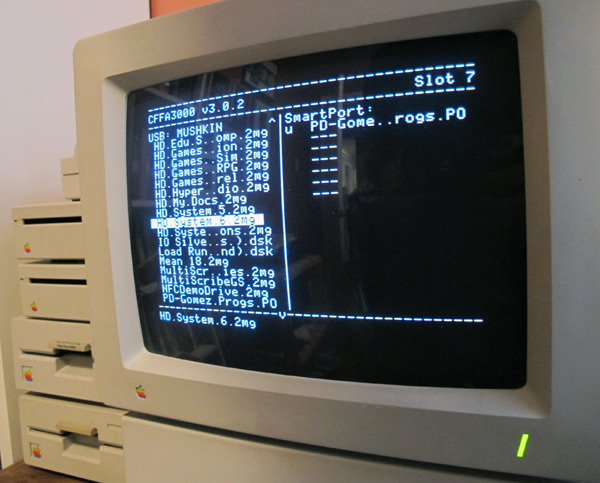 Disk images are mounted from a simple and intuitive menu system that is access via the IIgs control panel access screen. For the first time ever I have been able to run System 6 without having constantly to swap disks (I never owned a hard drive for my IIgs) and it only takes seconds to boot up. Booting system software from a floppy literally used to take minutes for me. 32MB disk images are easily created and can be use to then store all my documents like this kick ass Paintworks drawing I did of Adam Ant: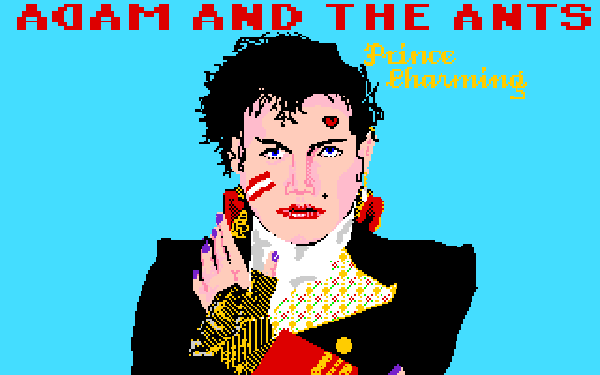 The CFFA3000 is not only about IIgs software. It can also can be used to mount and run disk images of 5.25″ floppies. Now I can Lode Runner and Alpha Plot without worrying about the fragile disk media getting eaten alive by my ancient disk drives. This isn't perfect. I have noticed that one of my favorite Apple games of all time, Beyond Castle Wolfenstein, does not work when running off of the card (same disk image runs fine from booted from a floppy in the real drive).
One additional benefit is that the CFFA3000 makes it dead simple to rip physical disks, 3.5″ or 5.25″, into disk images for use on a PC emulator or the CFFA itself. I'm still getting the hang of that process. It won't work for copy protected disks.
So far my only problem with it is that there is a limit to the amount of images you can pack on the flash media. This is somewhere around 250 disk images. But all-in-all, this is a great product and an essential add-on if you want to get serious about turning that old Apple ][ back on.