Revisiting Old Music Part (Go-Hi)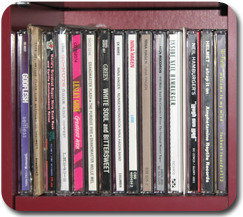 Godflesh – Selfless
This album doesn't hold my attention as much as Pure. The sound is thin compared to that record, but I still enjoy about 80% of this.
Godspeed You Black Emporer! – Lift Yr. Skinny Fists Like Antennas to Heaven!
After about the first fifteen minutes or so of this double CD, it's pretty clear that Godspeed is a one-trick pony. Essentially, what they do is take four or five chords, repeat them endlessly, and gradually add more instruments until the song crescendos in a wall of sound, then begin removing sounds from the mix until they are back to quiet again. Pick new chords and repeat. Don't get me wrong, it's a neat trick and, despite the fact that they come from the renegade U.S. province of Canada, I do recommend this album.
The Go-Nuts – World's Greatest Super Hero Snak Rock & Gorilla Entertainment Revue
Ok. They are a joke band. But I love shtick rock and how can you not love a band that has a song about Robert Earl Hughes?
The Go-Nuts – Dunk and Cover!
More Snak Rock! With an animated cover and the classic brand-name dropping track, "Bombay (You're my Hostess Cupcake)"
Lesley Gore – Greatest Hits
Bubbly, infectious 60s pop that is all about being (happily) devoted to guys who treat you like crap.
Grandmaster Flash – Furious Five – Grandmaster Melle Mel – The Greatest Hits
A horribly mastered, budget bin collection of their best songs. With a painfully truncated version of "White Lines".
Green – White Soul & Bittersweet
Early 90s, Chicago-based jangle pop? This band seemed like it was the next big thing, and then it went nowhere.
Nina Hagen – Nunsexmonkrock + Nina Hagen Band
The first part of this CD is perhaps Nina Hagen's best record, Nunsexmonkrock. It's at times atmospheric and at other times rockin' but always unique and interesting. The Nina Hagen Band EP is pretty straightforward rock, and 2 of the four songs are covers.
Nina Hagen – Love
A greatest hits CD that features the German versions of all the hits we may know here in the U.S. Pretty good choices overall, but the bonus track "World Now" is awful, awful, awful.
Nina Hagen – Nina Hagen
Gone are any traces of her punk roots. This is, for the most part, a late 80s hair metal album. There are a couple of listenable tunes, but a little too cheesy for my tastes.
Bill Haley and the Comets – From The Original Master Tapes
What can you say? It's Bill Haley and the Comets sounding great as usual.
Neil Hamburger – Inside Neil Hamburger
A decent short dose of Neil Hamburger.
Neil Hamburger – 50 States, 50 Laughs
A tour only CD release that is exactly what the title says. Pretty good.
Neil Hamburger – Laugh Out Lord
Neil Hamburger sorta jumped the shark around the time of this hit-or-miss album. This record still uses a canned audience, but the parody has worn thin and become too self-referential. The musical tracks are a nice change, but not quite enough to make me recommend this release. I think this is around when Neil began to perform live extensively. Turkington seems to be adapting the character for a live performance setting. The result is the gruff-voiced, coughing, audience-baiting Tony Clifton persona he uses today (like Clifton, I have my doubts as to whether Neil is actually being performed by Gregg Turkington anymore… that voice is just sooo different?).
Helmet – Strap It On
Loud, chunky, stop-starty rock from the early nineties. Not bad, but wears thin after a few songs. The horrible free-form guitar solos don't help either.
Hi-Fives – Welcome to my Mind
A decent punk album. It's on Lookout so it tends to sound like those bands, but they have hints of the British Invasion in their sound. And a few surf tunes as well.