Revisiting Old Music Part (Fu-Go)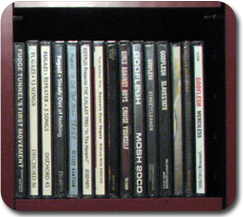 Fudge Tunnel – Hate Songs in the Key of E
Grungy metal. Not sure why I own this. All I know is that it isn't worth putting up for sale on Amazon.
Fugazi – 13 Songs
Stop all that slam dancing you punks. It's Fugazi! Classic post-punk record(s).
Fugazi – Repeater
Although there are not as many stand alone "hits" as there are on 13 songs, this is perhaps their best record.
Fugazi – Steady Diet of Nothing
There's something about the attitude of this record that turns me off. Ian Maykaye's vocals are at his absolute most annoying level on the attrocious track, Long Division. I stopped buying Fugazi albums after this (for a while at least).
Fugazi – In on the Kill Taker
Although the ultra cool opening is quickly squandered by Fugazi sameness, this CD redeemed the band somewhat for me. There are a couple of stinkers, but not bad overall.
The Galaxy Trio – In the Harem
Surf inspired instrumental music, but with a more distorted, 90s edge.
The Galaxy Trio – Saucers Over Vegas
More of the same.
The Giallos Flame – The Giallos Flame
Despite the corny cover, this is a pretty decent CD. The songs are inspired by the music of Gobin, Fabio Frizzi and other Italian Giallo soundtrack motifs. The tone fluctuates between jazzy, funky and synth-rocky (the latter being my favorite).
Girls Against Boys – Cruise Yourself
Groove-centric 90s hard rock. A laid back wall of sound.
Godflesh – Godflesh
Extremely heavy and slow. This is from before they discovered house music.
Godflesh – Streetcleaner
These are slow jamz for the grindcore set. Loud, piercing and slow. The slightly more experimental bonus tracks are better than most of the actual tracks on the LP.
Godflesh –Slavestate
A really great album. The gurgle and grind of the previous albums is honed in with a rhythmic, electronic backdrop. Not dance music, but a far more groovy version of Godflesh indeed.
Godflesh – Pure
This is my favorite Godflesh album. This is almost an industrial music album, but the samples and electronics are only there to color the edges of the mix. Unlike previous feedback heavy Godflesh releases, you can actually hear the instruments and what they are playing–this is a good thing.
Godflesh – Cold World
A nice Pure-era single. These tracks are as good as anything from that CD.
Godflesh – Merciless
How Godflesh lost her groove.