Revisiting Old Music Part (Fa-Fr)
Okay, I'm a bit backlogged with these micro reviews, so let us continue, shall we…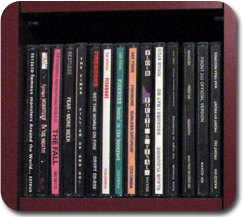 Famous Monsters – Around the World in 80 Bikinis!
Surfy, Cramps-like garage songs with a monster-girl shtick. Drums and guitars and no bass, but still pretty powerful and fun. Featuring the bassist from White Zombie on guitar and vocals.Famous Monsters – In the NightThis one may even be better than its predecessor.
The Fall – The Wonderful and Frightening World of the Fall
The Fall have like 3 dozen or so records. But of all the ones I have heard, this is my favorite. In fact, it might be on my top ten list… maybe, top twenty. But, still, it's great. Noisy, poppy and arty all at the same time.
Fear – More Beer
Fear's second LP couldn't possibly top The Record. This one is hit or miss. I Am A Doctor and Waiting for the Meat make this album worth a listen. The latter features a jungle rhythm/drum circle jam, that is an excuse for a goofy pun.
The Finks – Fill'er Up and Go!
This is one of the definitive records from the (pre-Pulp Fiction) 90s surf revival.
Fireworks – Set the World on Fire
Some raw rock and roll. Really lo-fi and scuzzy… in a good way.
Fishbone – Fishbone
A wild, booty shakin' classic. Fishbone never topped this. It's short, sweet and doesn't drift off into the soul/metal travesty that they evolved into years later.
Fishbone – Bonin' in the Boneyard
An EP from the Truth and Soul years. A couple of remixes and a throwaways and but still Fishbone in their prime.
Fishbone – Sunless Saturday
A CD single. I really did not like this album from whence this song came. A lot of folks really liked their new direction. I didn't.
Flour – Fourth and Final
More Illinois-soundin' Touch and Go stuff. This record get pretty pop at times and sounds almost like the Pixies.
Klaus Flouride – Because I Say So
Dead Kennedy's bassist noodling around in a studio. Not bad, but not what any young Dead Kennedys fan would really want to hear.
Klaus Flouride – The Light Is Flickering
I think I bought this for like $4. Again, way too mellow and derivative for someone from perhaps the greatest American hardcore band.
Front 242 – Geography
A very light and New-Romantic, almost Kraftwerk-sounding record. I actually like this CD better than their more defined industrial sound. I am a sucker for analog synths.
Front 242 – Official Version
This one is more aggressive and pounding. The blue print for late 80s electronic music.
Front 242 – Front by Front
Even more polished and refined industrial beats. This was back when dance music was played at 120 beats per minute (close to frequency of a heart beat) , and didn't try to be all glitch'd up and bloopy. If you know what I mean?
Okay I'm just rambling now. Until next time, rock on!