Revisiting Old Music Part (Do-Es)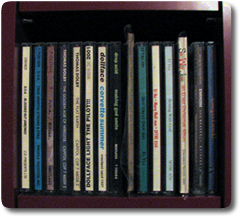 D.O.A. – Bloodied But Unbowed
Straightforward Canadian punk rock.
D.O.A. – True (North) Strong & Free
Slightly less punk, and a bit more cheesy bar band sounding. Dull.
D.O.A. – Murder
Again, not the most innovative band around. Slightly better than the previous CD listed here.
Thomas Dolby – The Golden Age of Wireless
She Blinded Me with Science is so over-played that I can't enjoy it anymore. Thankfully, many of the other songs are worthwhile on this CD: Europa and the Pirate Twins and Windpower stand out for me.
Thomas Dolby – The Flat Earth
Veers a bit into adult contemporary territory, but there's enough new wave-ishness here to keep it interesting.
Dollface – Corvette Summer
The finest band to ever come out of Peoria, Illinois. Every song is a gem here.
Dollface – Lights the Pilot
Geez, this band was good. Shoulda been bigger.
Drop Acid – Making God Smile
Kevin Seconds's post 7 Seconds band. Very 90's sounding. I saw this band open for Superchunk in Champaign, IL the night Magic Johnson revealed he had AIDS.
Drums & Tuba – Flatheads and Spoonies
Really they are drums, tuba and noodly guitar. Bought this on a whim after seeing them live. Different, but the songs get old pretty fast.
El Vez – How Great Thou Art
A certain amount of pop-music literacy may be required to really appreciate El Vez. Funny, but there's much more going on to really discount him as a "joke" band.
El Vez – Merry MeX-Mas
El Vez's first Christmas album. His cover of Feliz Navidad/Public Image is a classic. Highly recommended listening.
El Vez – Boxing With God
Religion-inspired rock from El Vez. His amazing skill as an arranger is in full play here.
El Vez – Sno Way Jose
More Christmas (and Hanukah) greatness.
Eminem – The Marshall Mathers LP
Okay, Wika bought this one. She got it at Wal-Mart so it is edited and bleeped. It's almost worth a listen just to hear how much this is cut up. Even if we could hear the bad words, this album still would suck as much as it already does.
Esquivel – Space Age Bachelor Pad Music
Wonderful, off-the-wall big band arrangements from the 50's and 60's from this musical genius.