Peace Thru Vandalism / When In Rome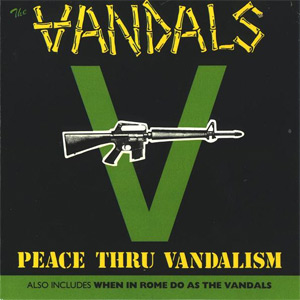 As a kid growing up in Central Illinois Peace Thru Vandalism was one the first "punk rock" records I ever heard. I wasn't a punk rocker (or corn-chip as was the Peoria slang for anyone who looked even remotely "goth" or "punky") but I did like much of the music and this record was a great gateway point for someone who grew up listening to Dr. Demento and novelty music. Vandals' songs are funny and never very serious. Even their anarchist's anthem "Anarchy Burger" is a goof. Despite the light-hearted tone, the music is loud and fun and everything the punk rock episode of Quincy M.E. promised.
The other half of this CD is the band's first full-length record, When In Rome. The irreverent sense of humor is still there with songs like "Viking Suit" and "Slap of Luv," but the music is a bit less aggressive and a bit more diverse (there's even some scratching on "Ladykiller"). I am not sure that's a good thing, but it works here for the most part.