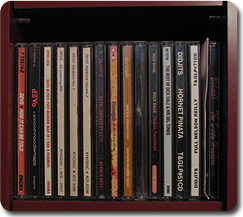 Devo – Now it Can Be Told
Despite being recorded during the waning years of Devo, this live album is actually pretty great. They even make the bad Total Devo tracks seem almost good.
Devo – Smooth Noodle Maps
Devo's last release is okay. I bit more consistant than Total Devo. But still nothing close to their glory days. The cover fo the Greatful Dead's Morning Dew is the best track on the CD.
Devo – Post Post Modern Man (single)
A CD single from Smooth Noodle Maps. Nothing remarkable here.
Devo – EZ Listening Disk
Devo covers devo.
Devo – Hardcore Devo Vol. 1
Lacks the electronic polish of their best work, but most of this CD is essential Devo.
Devo – Hardcore Devo Vol. 2
Same as above, just more.Devo – Greatest HitsMost of my Devo collection is in the form of cassettes, so I bought this so I would have a CD version of their best stuff.
Dianogah – As Seen From Above
Two basses and a drummer. My friend Jay's band revived my waning interest in indy-rock in the early 00's with this CD.
Dianogah – Battle Champions
My favorite Dianogah album.
Dianogah – Millions of Brazillians
Not their best work. I think I was wanting more from their sound when this CD came out. I still like it quite a bit.
Dick Dale – Tribal Thunder
Dick Dale's awesome comeback album. Totally insane. Dick Dale was signed as a witness on my organ donor card for years.
Dick Dale – The Best of Dick Dale and his Del-Tones
More great Dick Dale – the self-proclaimed inventor of heavy metal(?!)
Didjits – Hornet Piñata
Champaign band. They were a great act to see live, but in hindsight, their music is kinda lame.
Didjits – Full Nelson Reilly
Same as above.The Dirty HowlersGreat garage rawk from Chicago.
The Dirty Howlers – Behold!
Another batch of raw rockers from the Howlers. They broke up immediately after they released this CD.