For the past year or so I have been keeping a log of all the movies, books and media I have consumed throughout the year and giving personal ratings for everything. I can now present you with my top ranked items for the year of our Lord, 2006!
My only rule for adding things to the list are that I have to have not seen/read/played that item previously. This means my lists are filled with items that weren't released in 2006, so don't consider this a Best of 2006 list like you would see on other, so-called "web sites." So without further ado, here is Robert Gomez's favorite media of 2006: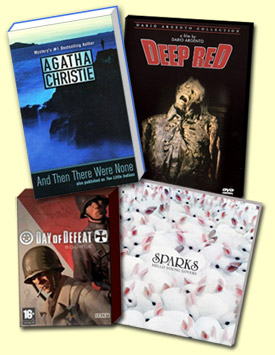 Movies
Deep Red (a.k.a. Profundo Rosso) (9/10)

Beautiful horror mystery with one of the best, and fair reveals at the end of the movie. It's like a live action romantic painting.

Wallace and Grommit and the Curse of the Were Rabbit (9/10)

Very amusing animation that doesn't rely on American animation formulas of anthropomorphism. Lot's of humor for adults too.

Frenzy (9/10)
Rear Window (9/10)

What can I say, it's a classic.
Books
And Then There Were None by Agatha Christie (10/10)

A great puzzle that keeps up its pace all the way to the last page

The Fortune of War by Patrick O'Brian (9/10)
Desolation Island by Patrick O'Brian (9/10)

Both of the above books are part of the Aubry/Maturin naval warfare books. These are (so far) my favorites in the series with strong, over-arching plot lines or espionage and survival and a slightly reduced emphasis on naval tactics and such.
Games
Day of Defeat: Source (10/10)

My first real foray into online FPS gaming. Fast paced and forgiving for n00bs.

Half-Life 2 (9/10)

A great game with some nice game play twists. I get a bit boring about 2/3 into it, but picks up again by the end.
Music
Hello Young Lovers by Sparks (10/10)

A masterpiece of epic, symphonic goofiness and left-of-center pop structuring. Sparks best since Kimono my House.

Fear Box Set by Ennio Morricone (10/10)